Brodies exhibit at Edinburgh's first ever coffee festival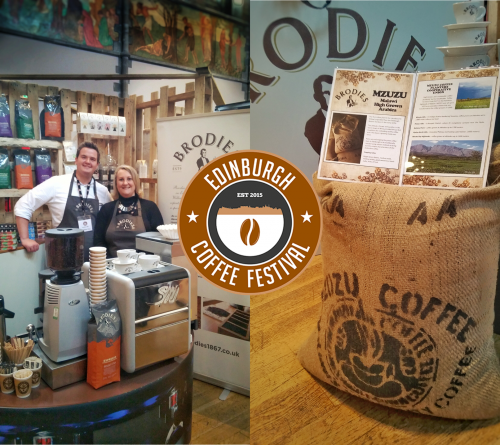 Edinburgh's first coffee festival came to Mansfield Traquair on Saturday 3rd October.  With the aroma of speciality coffee filling the air, exciting demonstrations and live music the festival celebrated Edinburgh's vibrant coffee scene.  
The Brodies stand offered coffee lovers and those working in the coffee industry the chance to try some of our most loved coffees (as well as our handmade chocolates and new award winning pyramid tea bag range).  We brought along 'Mount Etna', a rich full bodied blend from of our 'Dynamic Volcanic' espresso range comprising Indonesian, Guatemalan and Brazilian Arabicas. The San Marco Flexa one group traditional espresso machine was in high demand with over 200 espresso, ristretto and flat whites sampled on the day.
We were also pleased to present our new guest filter coffee 'Mzuzu', a single origin, high grown Arabica from Malawi.  This mellow coffee is a touch nutty and with hints of fruit was a big hit with the Edinburgh crowd.  The Mzuzu cooperative has some interesting historical ties with Edinburgh, find out more here.  The one day event had a great atmosphere and showcased the very best the Edinburgh coffee scene has to offer and we for one hope to see the Edinburgh Coffee Festival return in 2016.